Widget is one of essential part of a WordPress site. It gives you an easy access of things you want to display or interact with the user of your site. However, if you have hundreds of widgets stored in your site or even just a few, it is a pain to lose or misplaced your widgets on its proper place. Even if your widgets will be placed on Inactive widgets section with the latest feature of WordPress, it is still a hassle to rearrange it one-by-one on its widget column. With this problem, even if you have different themes, you cannot avoid to lose your precious widgets on hand. Since it is an inevitable problem, using a plugin Widget Importer & Exporter will leave your worries on it. Here's how to backup and restore your widgets:
Install and activate Widget Importer & Exporter WordPress plugin. For plugin installation instruction, please refer to our article How to Install Plugin for WordPress.
After installation, navigate to Tools  Widget Importer & Exporter.
For WordPress widget backup, click Export Widgets.
To restore WordPress widgets, click Choose File and find the Export file with .wie extension, then click Import Widgets. A notice will appear if you have successfully imported each widgets in place.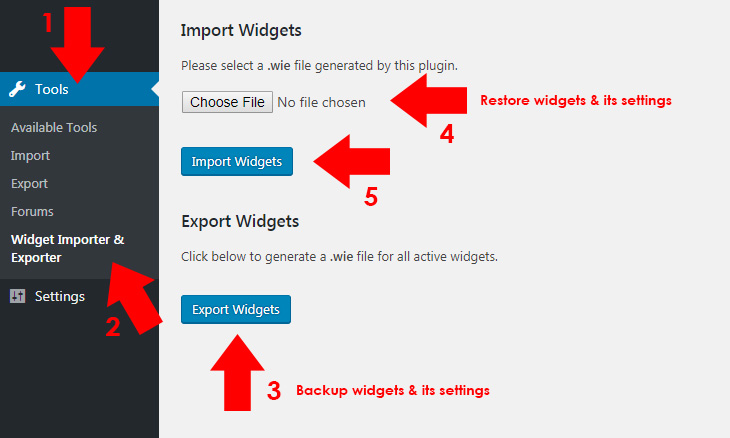 Remember, if you have imported widgets that does not exist, it won't be imported. Otherwise, a notice will display that it is not imported, and if it is already exists, it will display as, "Widget already exists."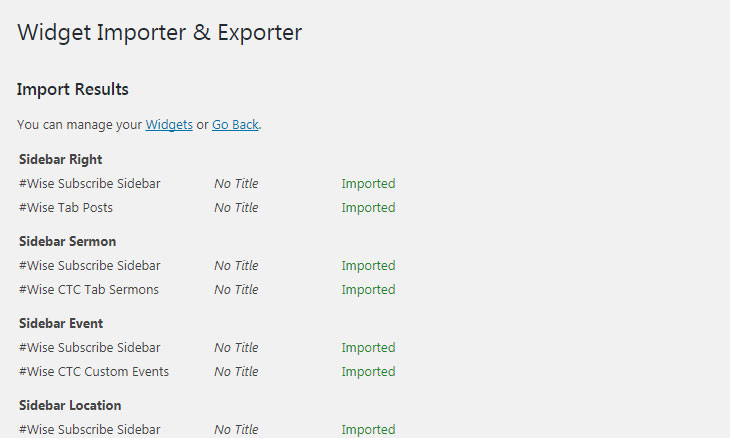 That's it! Thank you for having this handy tool that will wipe away our tears of losing widgets we have placed and configured. If you use this plugin or have a different process of WordPress widget backup/restore, feel free to place your comments below.