It has been one year since I am using Linode as my VPS hosting. I remember when I first apply for a Linode plan, I was too hesitant because I have no idea if it is a reliable VPS hosting. But then I have realized that Linode is one of the longest VPS hosting provider which was founded on 2003. Being one of the leader in industry, they provide a fast, reliable and competitive cloud hosting for designers and developers around the world. Their goal is to provide a cloud hosting mostly for developers and designers.
In my experience, I have started using Linode without having much knowledge about Linux and server management. That time, I have been searching for tutorials and any other articles to help me out, and I found Linode having a great resource about setting up your own server. This push me to host my sites  through Linode. Being a web developer and a web designer specifically developing WordPress themes and plugins, this is a wisest choice for cloud hosting. It open the doors of opportunity for a better quality of service for your customers and visitors. It gives a definite traffic bandwidth based on pricing plan. Their admin panel looks classic but it is user-friendly. Another thing is that they provide managed cloud hosting for those who don't want to set up their own web server. One of the thing that I don't like is that it doesn't have a payment option for PayPal, but in that case it is just a minor issue for me.
Double the RAM, Double the Happiness!
Good news! Being on their 13th birthday, from the time this post was created, they offer free upgrade of RAM in a double basis. My Linode 1GB Plan upgrades to a 2GB RAM. It is a big advantage for me because RAM is also important also because it makes your server faster and avoids memory full that gives your database to display error message for database connection. On my experience, the server which I have is configured to reboot whenever it is memory full and it reboots many times because of 1GB limit of RAM. That way, I have planned to upgrade my Linode to 2GB plan. Until I login to my Linode dashboard, I saw a notice indicating that on Linode's 13th birthday, they are giving free upgrade of RAM in double size. Seriously? I was too skeptic but I have tried to click its free upgrade and it upgrades hastily. Now I am happy using Linode as my cloud hosting server without even upgrading to the next level. Comparing to other VPS hosting, they could boast to a better RAM even on their lowest pricing. On the bottom, I have captured my Linode experience in the upgrade.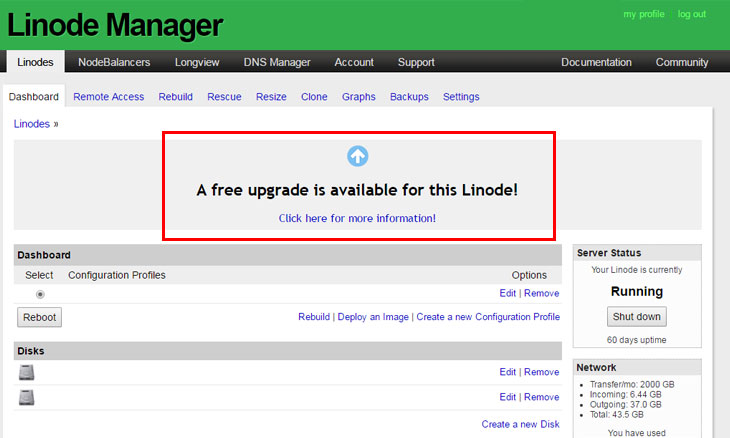 Linode Updated Pricing Plan
I said, wow! It's a huge advantage for me because at times I am experiencing an issue with 1GB RAM from my server and planning to change host or upgrade to a higher plan pricing. In comparison from the other VPS hosting, you would see that Linode is currently the best choice for VPS in terms of RAM and network bandwidth. Check out its pricing plan and compare with other VPS hosting.